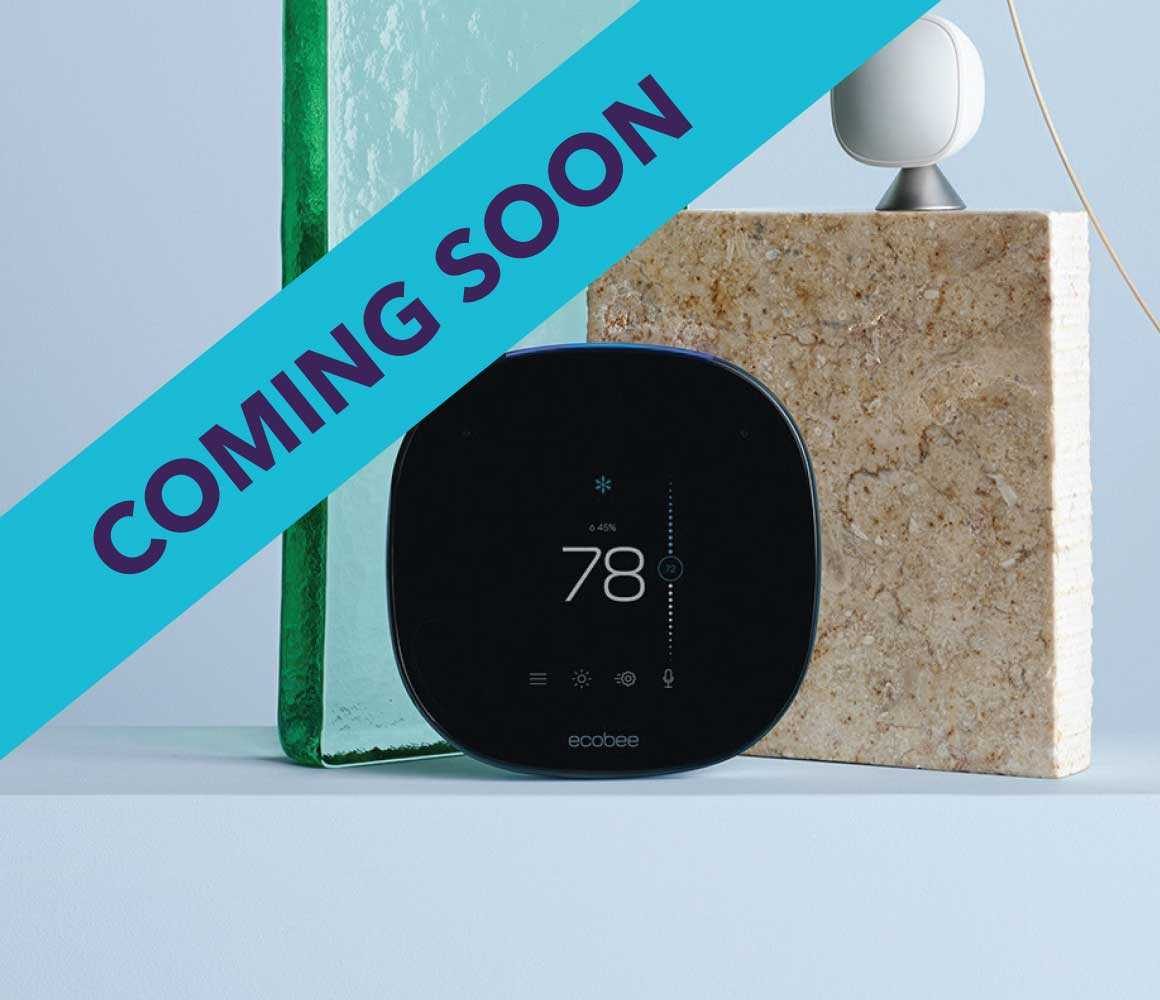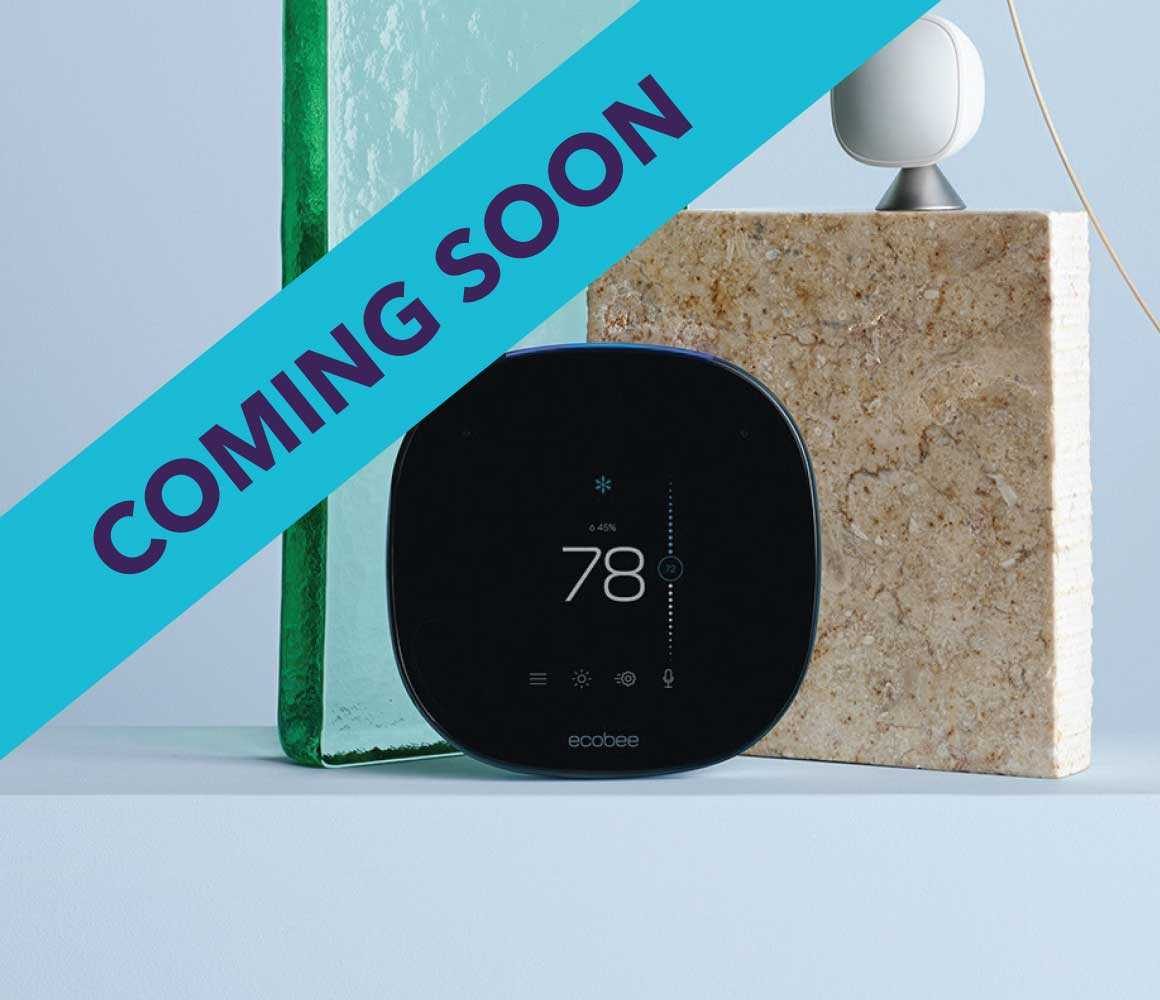 ecobee
ecobee SmartThermostat with voice control
Turn up the dial on your energy savings with ecobee.
Currently unavailable. Please email gridsavvy@sonomacleanpower.org with questions.
Get a $50 instant rebate when you purchase an ecobee thermostat through SCP and enroll in the GridSavvy Community. Once your thermostat is installed and connected to the GridSavvy Community, you can qualify to earn a $5 monthly bill credit.

ecobee SmartThermostat
The ecobee SmartThermostat with voice control is the flagship device that can learn and adapt to your schedule with the included SmartSensor. The SmartSensor can be controlled with the app or your home's smart assistant. With the included SmartSensor your SmartThermostat will be able to automatically detect occupants and adjust your home's temperature accordingly. With the ecobee SmartThermostat you can live comfortably and save up to 23% annually on your energy costs. The SmartThermostat with voice control comes with Alexa built in for calls, music, and more added functionality. The thermostat is ENERGY STAR® certified and can be controlled from anywhere with your iOS or Android smart device.
SCP customers should purchase this product if they want a flagship smart thermostat with voice control functionality built in. Customers should also purchase this if they want a product that will help them save money on their energy costs automatically. Additionally, the ecobee SmartThermostat will also allow SCP customers to start saving $5 per month on their energy bill statement through SCP's GridSaavy incentive.
This thermostat is eligible for Sonoma Clean Power's GridSavvy Community. Earn an additional $5/month in bill credits by using your smart thermostat as a grid resource!

Additional Vendor Resources
Technical Specifications
Display: 3.5 in. full-color LCD touchscreen, 320 x 480 pixel display
Dimensions:
Thermostat - Height: 109 mm (4.29 in.), Width: 109 mm (4.29 in.), Depth: 25.6 mm (1 in.)
Trim plate - Height: 158.6 mm (6.2 in.), Width: 158.6 mm (6.2 in.), Depth: 8.7 mm (0.3 in.)
Power Extender Kit* - Height: 40 mm (1.6 in.), With stand: 50 mm (2 in.), Width: 40 mm (1.6 in.), Depth: 26 mm (1 in.)
Colors: Black front, white sides and back
Processor & memory: 1.5GHz quad-core Cortex A35 processor, 4GB Flash (eMMC), 512MB DDR4 RAM
Thermostat sensors: Temperature, Humidity, Occupancy, Proximity
Voice & audio: Built-in Alexa Voice Service, Built-in microphones, Built-in speaker, Far-field voice recognition
Compatibility: 1. Gas, Oil, Electric, Dual-fuel 2. Conventional (2H/2C) 3. Heat Pump (4H/2C) 4. Humidifier, Dehumidifier, Ventilator, HRV or ERV
Wire Terminals: Rc, G, Y1, Y2, O/B, PEK, Rh, C, W1, W2, ACC-, ACC+
Connectivity & security: 1. Dual-band Wi-Fi: 802.11 b/g/n @ 2.4GHz, 802.11 a/n/ac @ 5GHz, 2. Bluetooth 5.0, 3. WEP 64, WEP 128, WPA, and WPA2 encryption methods, 4. DHCP (dynamic) or static IP addressing, 5. 168-bit SSL encryption, 6. 915MHz radio
Works with: Apple HomeKit, Amazon Alexa, Samsung SmartThings, IFTTT, and more.
Bandwidth: 15-20 MB/month (dependent on Alexa Voice Service usage)
Power consumption: Less than 3.5 VA
Powering methods: Wired 24VAC through terminals C and Rc, Power Extender Kit enables you to reliably power your thermostat without having to run a fifth wire.
Sustainability: Recycled packaging, Mercury-free, Arsenic-free, PVC-free, ROHS compliant
Temperature range: Desired Temperature: 45° to 92°F (7° to 33°C), Display: 40° to 100°F (5° to 37°C), Sensitivity: +/− 1°F (+/− 0.5°C), Operating: 32° to 130°F (0° to 55°C)
Humidity range: Display: 20% to 90%, Sensitivity: +/− 5%, Operating: 5% to 95% RH (non-condensing)
Storage: −31° to 113°F (−35° to 45°C), 5% to 95% RH (non condensing)
Warranty: 3-year limited warranty
Languages: English
What's in the box: SmartThermostat with voice control, Thermostat mounting plate, Install guide, Quick-start guide, Wire labels, Screws and drywall anchors, Optional for installation: Power Extender Kit (PEK), Trim plate